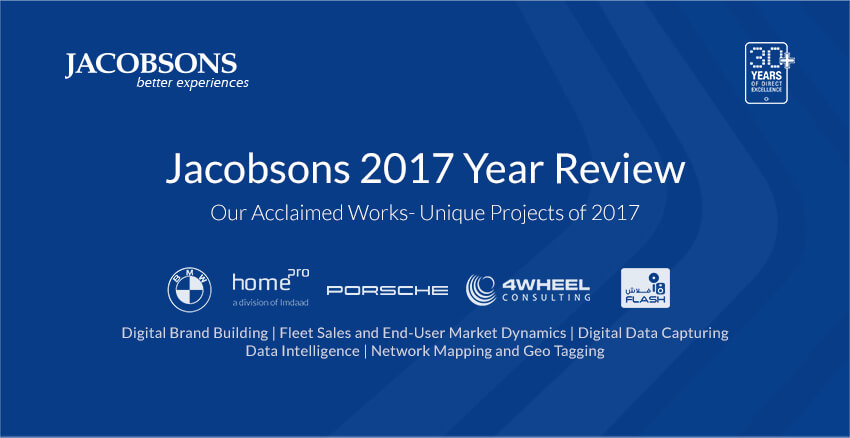 Jacobsons 2017 Year Review
Market Study: Automobile Fleet Sales and End-User Market Dynamics
Automotive
BMW with its 18+ dealerships in 11 cities across Turkey has established a strong presence in the region over the years and is constantly striving to sustain its market share with their new lineup.
Markets Covered

Project Snapshot:
BMW Turkey required to conduct a market study of the region to identify their existing market share along with their competition's'. They were also keen on understanding the market dynamics and corporate fleet vehicle sales in the region.
Our research experts conducted a very comprehensive market study that included universe analysis, qualitative in-depth interviews & quantitative research interviews with key decision makers of corporates as well as fleet service providers in the market.
Result
The conclusive study provided meaningful insights for the BMW team to take strategic decisions on strengthening their presence in the Turkey Market.
The success of the project triggered BMW to engage us to conduct a similar study in UAE and KSA markets and is currently progressing in both these markets simultaneously.
Digital Brand Building & Lead Generation
Facility Management
Imdaad is one of the leading integrated facilities management solutions provider in the Middle East. They launched a B2C home maintenance services division under the name 'Home Pro' in 2009. Though they were the pioneers in the market, competition grew over the time and Home Pro was looking to expand their client base by establishing a strong digital presence.
Markets Covered

Project Snapshot:
Home Pro required a strategic brand building to establish itself as one of the best home maintenance providers of UAE. Our team of strategic experts devised an integrated marketing plan that was based on the findings from a detailed study conducted on their existing and lost customers.
The integrated marketing plan included an individual customer focused website, multiple e-mail/SMS awareness and lead generation campaigns combined with a strong establishment of social presence across different platforms. Lead generation activities also included direct calling, customized product offers, interactive creatives & retargeting programs.
Result
The campaigns & efforts were successful to the extent that we could obtain 60+ quality leads in a short span of 3 months. Various digital campaigns are currently running, and Home Pro is steadily progressing in social platforms and getting ready to drive further traction in the future.
Digital Data Capture with Interactive Landing Page
Automotive
Porsche being one of the most prominent brand names in the automotive industry, needs no introduction. They started Dubai operations by establishing its regional office in 1999 and currently provides strategic and operational support to the Porsche dealers in the Middle East.
Markets Covered

Project Snapshot:
Porsche maintains a customer database of over 20+ fields for many years. They realized their database maturity was not meeting their data compliance standards and was in a need to populate their existing base with maximum information.
Our team of data experts provided a data clean up strategy along with an interactive way of data capture to achieve their goal of 80%+ data maturity index. A very unique and interactive 'RACE' themed landing page was developed to capture all the 20+ required fields from the customers. The rich user-experience and right incentives like the Etihad Guest Miles and Porsche Merchandise triggered higher response rates from the auto-enthusiastic customers.
Result
The existing customer database was updated and segmented to comply with the Porsche data standards. It also helped in triggering the existing customers and generate new leads in the process.
Geo Tagged Outlets Mapping & Mystery Shopping: Mobile App & Real Time Dashboard Reporting
Automotive
4 Wheel Consulting is a Dubai-based Management Consultancy specialized in operational support services for the Automotive industry. Their clientele is heavy with many global automotive brands and numerous local dealerships.
Markets Covered

Project Snapshot:
One of their clients, Fiat Chrysler Automobiles, were looking for a solution to have a collated view of all their sales & service outlets along with their competition, all in a single place which would help the management decide future business strategies.
Such a collated system should ideally churn out assessed information about site location, condition of the building, infrastructural capabilities, showroom layout, products displayed & customer service standards for each of the outlet of FCA as well as their three other competitions. Obviously, the assessment had to be carried out with the help of a mystery shopper.
This requirement was handled by building a customized mobile app for the mystery shopper to analyze the key attributes, tag the location of each outlet using geo coordinates, rank the outlets on each categories & also prove them with real time photos.
An analysis and reporting application was put in place at the back end that collected information dynamically from the mobile app & displayed in visually readable format in the website, which was used by the FCA management team. This was complemented with an offline reporting mechanism to make sure the copies of reports were also available outside of the website.
Result
The custom application provided a detailed performance analysis report for FCA's dealerships including network maps, evaluation of dealerships based on categories as well as the competitor brands in the market. This in turn helped them to analyze & make important decisions on their existing network of outlets.
Customer Data Intelligence & Audience Persona
Entertainment
Flash Entertainment is a premier live events company based in Abu Dhabi. It has a proven track record in delivering major events and live experiences across Middle East.
Markets Covered

Project Snapshot:
Flash Entertainment had requirement for cleaning up its database of records fetched by their in-house CRM system from various sources and leverage them to execute efficient campaigns. Our team of data experts devised a strategy for cleaning up the database of 114K+ records and are assisting in building audience personas through data intelligence. Persona building helps in targeting the right audience with the right message at the right time and Flash Entertainment is on their way to achieve this long-term goal.
Result
Flash Entertainment was provided with a clear data strategy. The 114k database was also segmented, tagged and validated to drive engaging campaigns in the future. Further research on audience persona to identify the right target audience that would drive cost effective campaigns is currently in progress.